10th ANNUAL CONFERENCE ON ARCHITECTURE AND URBANISM 2021
CONTEMPORARY RESEARCH AS A RESPONSE TO TRANSIENCE
10. 11. 2021, on-line konference and poster exhibition from 8. 11. 2021, FA BUT Czech Republic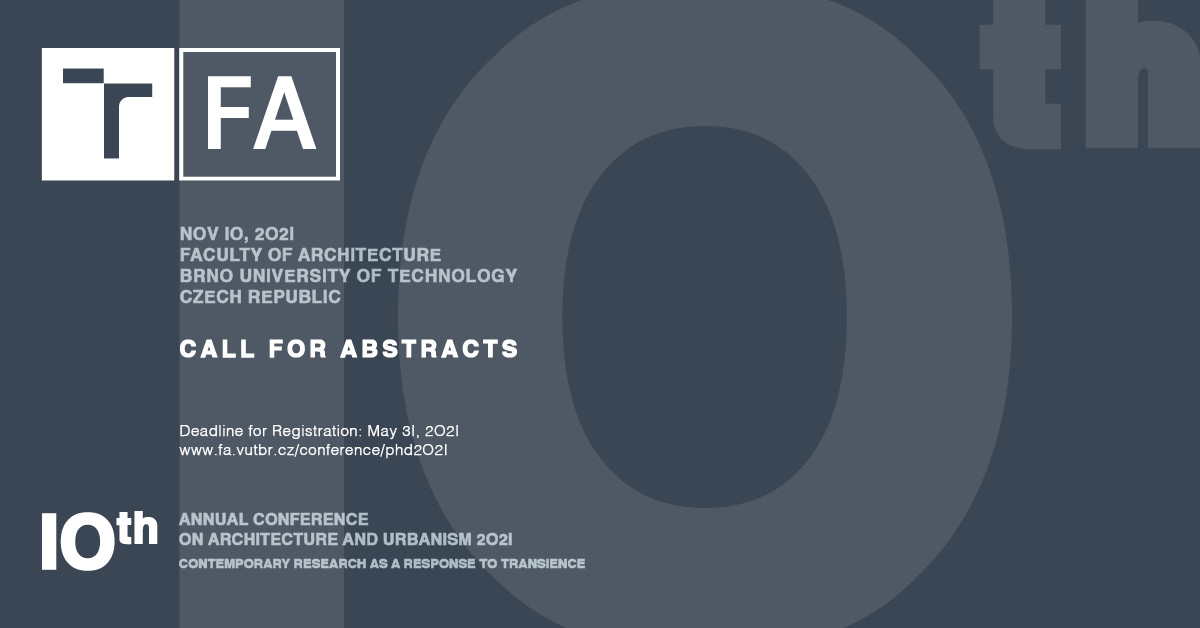 The international conference will be organized for doctoral students in order to exchange experience and knowledge between research institutes and young researchers during the meeting. The conference will be organized on-line on 10th November 2021 by the Faculty of Architecture of the Brno University of Technology (FA BUT), Czech Republic. The students will present the results of their research focused on the thematic scope of the conference in two areas of Architecture and Urban planning. This year's 10th annual conference is a follow up on previous conferences held in Prague in 2011, 2014 and 2017 in Bratislava in 2012 and 2015 and in Brno in 2013, 2016 2019 and 2020.
Keynote speakers:
2019 – Professor Timothy Brown from Clemson University (former vice-dean of IIT Chicago).
2020 – Professor Christopher De Sousa of Ryerson University, Canada.
2021 –
Ben Sweeting, PhD.
, University of Brighton, School of Architecture and Design
Thematic scope of the conference:
A. URBAN PLANNING
A.1. Data in urban planning
A.2. Quality of life in urban space
A.3. Urban space and structure
A.4. History and changes in urban environment
A.5. Urban regeneration, transformation, development and growth

B. ARCHITECTURE
B.1. Architecture education
B.2. History and theory in architecture
B.3. Sustainable architecture, vernacular architecture and ecology
B.4. Structural forms and construction technology

IMPORTANT DATES
Call for Abstracts announcement:
April 23, 2021
Deadline for Registration and Abstract:
May 31, 2021
Confirmation of Abstract acceptance:
June 21, 2021
Deadline for e-submitting of Full-text + Review + Poster:
September 12, 2021
Application
[docx]
| Call for abstracts
[PDF]